Background
At the turn of the new century, relatively few tech start-ups were located in New York City. Silicon Valley, New England, LA/Orange County, San Diego and even upstate New York far outstripped the New York metropolitan area in the number of tech start-ups. From 2007 to 2011, however, tech start-ups in NYC grew by 32%, during a severe economic recession when other regions experienced sharp declines.
This rapid growth of tech start-ups in NYC cannot be explained by overall economic growth alone, especially given that the NYC financial industry was the epicenter of the most serious financial crisis since the Great Depression. So why did New York City, particularly Manhattan, experience such explosive growth in tech start-ups at the outset of a major economic downturn?

To investigate this question, the Cornell Center for the Study of Economy and Society, has embarked upon a groundbreaking study. Our approach connects entrepreneurs to their organizational field, and local state actors into a broader system of development and change. Our aim is to understand the individual role of entrepreneurs, both as actors of change, as well as economic agents receiving signals from their institutional environment.
Our Approach
Our interdisciplinary approach—including teams of sociologists and economists—focuses analytic attention on institutions in the making of a knowledge-based regional economy. In explaining the rise of regional centers of knowledge-based economic development, our approach explores the institutional drivers of successful entrepreneurial activity. We plan to conduct basic research on knowledge-based economic development near to the timing of emergence, with a focus on the social mechanisms and institutional processes enabling and promoting this new wave of entrepreneurship.

Preliminary research has shown significant evidence of cluster formation in the concentration of tech start-up firms in lower Manhattan. This pattern of cluster formation is consistent with the view that dense networks of like-minded actors and norms of reciprocity are important causal factors in the emergence of trust and cooperation, which we hypothesize enables and guides the emergence of NYC's tech start-up economy.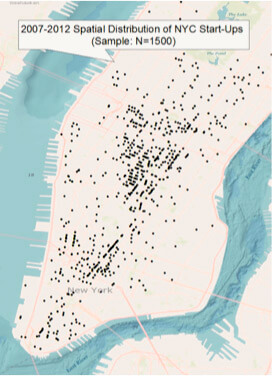 "We look forward to conducting field research in NYC and sharing our results on why the city has become, comparatively, one of the leading regions in the world for tech start ups and technological innovations."

Victor Nee, Frank and Rosa Rhodes Professor and Director of the Center for the Study of Economy and Society at Cornell University