About the Project
Why did New York City, particularly Manhattan, experience such explosive growth in tech start-ups at the outset of a major economic downturn?
Background
At the turn of the new century, relatively few tech start-ups were located in New York City. Silicon Valley, New England, LA/Orange County, San Diego and even upstate New York far outstripped the New York metropolitan area in the number of tech start-ups. From 2007 to 2011, however, tech start-ups in NYC grew by 32%, during a severe economic recession when other regions experienced sharp declines.
This rapid growth of tech start-ups in NYC could not be explained by overall economic growth alone, especially given that the NYC financial industry was the epicenter of what at the time was the most serious financial crisis since the Great Depression. So why did New York City, particularly Manhattan, experience such explosive growth in tech start-ups at the outset of a major economic downturn?

To investigate this question, the Cornell Center for the Study of Economy and Society, has embarked upon a groundbreaking study. Our approach connected entrepreneurs to their organizational field, and local state actors into a broader system of development and change. Our aim was to understand the individual role of entrepreneurs, both as actors of change, as well as economic agents receiving signals from their institutional environment.
Our Approach
Our interdisciplinary approach—including teams of sociologists and economists—focused analytic attention on institutions in the making of a knowledge-based regional economy. In explaining the rise of regional centers of knowledge-based economic development, our approach explored the institutional drivers of successful entrepreneurial activity. We conducted basic research on knowledge-based economic development near to the timing of emergence, with a focus on the social mechanisms and institutional processes enabling and promoting this new wave of entrepreneurship.

Preliminary research showed significant evidence of cluster formation in the concentration of tech start-up firms in lower Manhattan. This pattern of cluster formation was consistent with the view that dense networks of like-minded actors and norms of reciprocity are important causal factors in the emergence of trust and cooperation, which we hypothesized enabled and guided the emergence of NYC's tech start-up economy.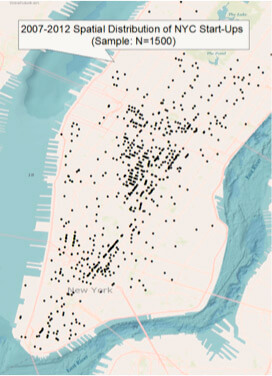 We have launched a follow-up survey of the tech entrepreneurs who participated in the initial stage of this ground breaking study. Our research thus far has shown that social networks and expectations have a great deal to do with the success of NYC's Tech economy. Our research today is focused on exploring further the different ways and means that social networks and inter-firm cooperation function, how they assist entrepreneurs and strengthen the NYC tech community. We hope to uncover potential solutions and strategies that facilitate a transition to a knowledge-based regional economy. We invite you to watch the video below to understand some of what we have learned.

"We look forward to conducting field research in NYC and sharing our results on why the city has become, comparatively, one of the leading regions in the world for tech start ups and technological innovations."

Victor Nee, Frank and Rosa Rhodes Professor and Director of the Center for the Study of Economy and Society at Cornell University
Our Supporters
We are grateful to the organizations and leaders who have taken part in our ongoing field research in the New York City metropolitan area. Below is a list of organizations that support our research and took part in the first round interviews.
Participating Organizations
Etsy
Gilt Group
Google
AppNexus
Appinions
Shelby.tv
Murmur
Cornell NYC Tech
Mimeo
The Flatiron School
Enertiv
Lendkey
Expotv
Widetronix
GetGlue
Mashworks
BigHuman
Research Center Team
Our project brings together an international team of researchers that includes sociologists, economists, network analysts, and statisticians.
VICTOR NEE
×
VICTOR NEE
Project Lead
Victor Nee leads the Cornell-based research team.
He is the Frank and Rosa Rhodes Professor in the Department of Sociology at Cornell and the Director of the Center for the Study of Economy and Society. Professor Nee's research interests in economic sociology examine the role of networks and norms in the emergence of economic institutions and organizations. In 2006 he was awarded the John Simon Guggenheim Fellowship, and was a Fellow of the Center for Advanced Study in the Behavioral Sciences at Stanford and the Russell Sage Foundation.
RESEARCH CENTER
×
RESEARCH CENTER
CSES
The Center for the Study of Economy & Society (CSES) is a research institute, incubator and training center focused on advancing the sociological analysis of economic markets and action. CSES's mission is to create a multi-disciplinary research agenda and promote an environment conducive to research—both in carrying it out and making it financially possible.
Would you like more information about this project?
Contact Us
The NYC Tech Ecosystem can be seen as a complex institution with interacting component parts to connect entrepreneurs and firms, share information among the tech community, and support local startups and entrepreneurs. The financing of this ecosystem involves a complex set of large and small organizations—venture capital funds, angel investors, and incubators, etc.
Legal information and support flow through the ecosystem by way of specialized law firms and internal legal divisions. Engineers and R&D teams throughout the ecosystem are connected through the NY Tech Meetup, General Assembly, Flat Iron School, and the new applied sciences universities. This complex institution, and loose knit network that it supports for startups, is how we define the entrepreneurial ecosystem and is the focus of our NYC research.
Economic & Social Institutions
Meetup.com
NYC EDC
NYC Mayor's Office
NY Tech Meetup
Incubators & Accelerator Institutions
ER Accelerators
General Assembly
Techstars NYC
Educational Institutions
Cornell Tech NYC
Carnegie Mellon
Columbia
Flat Iron School
NYU
Finance & Capital Firms
500 Startups
FirstMark Capital
First Round Capital
Founder Collective
Gotham Ventures
Lerer Ventures
RRE Ventures
SoftBank Captial
Spark Capital
SV Angel
Thrive Capital
Union Square Ventures
Startup Firms
AppNexus
Etsy
Fab
Foursquare
Gilt Group
Huffington Post
Kickstarter
Knewton
MakerBot
OpTier
Seamless
Shutterfly
Tumblr
ZocDoc
Research Notes
Our research team completed conducting field research in the New York City metropolitan area, and will share notes and empirical findings from the field as well as provide information about the vibrant and quickly growing NYC Tech Community.
Contact
Would you like to participate in our project?
We are seeking CEOs and Co-Founders of NYC start up tech firms to participate in our project. The first stage in our research is to sit down with important actors in the tech community over the last 10 years, including the executive teams at NYC high tech start-ups, NY Tech Meetup, VC funds, accelerators, incubators, educational institutions, and governmental organizations. We would be delighted to sit down with your leadership team to discuss why your organization was established in New York City and gain insight from your experiences with setting up a NYC entrepreneurial venture. Your experiences and insights are invaluable to understating the Made in New York City tech start-up.